Eastside Bike Shop
26210 Van Dyke Avenue
Center Line, Michigan 48015
(586) 756-2001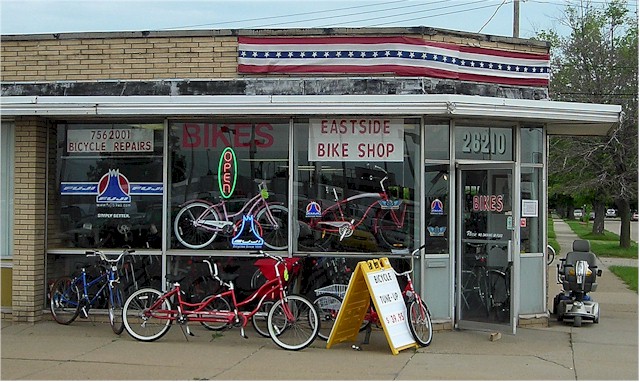 Conveniently located just 0.4 miles south of I-696 on the East side of Van Dyke.
Store Hours
Mon – Wed, Fri, Sat 10:30AM – 6:30PM
Sun 12:00PM – 3:00PM
We are closed on Thursdays
We are available for special appointments, just call us!

Looking for the perfect gift? Consider one of our Gift Certificates.
In the April 21, 2010 edition of MetroTimes we were the Staff Pick for the Best Bike Shop in their "Best of Detroit 2010" poll. Click on the link, scroll down, and read what they had to say!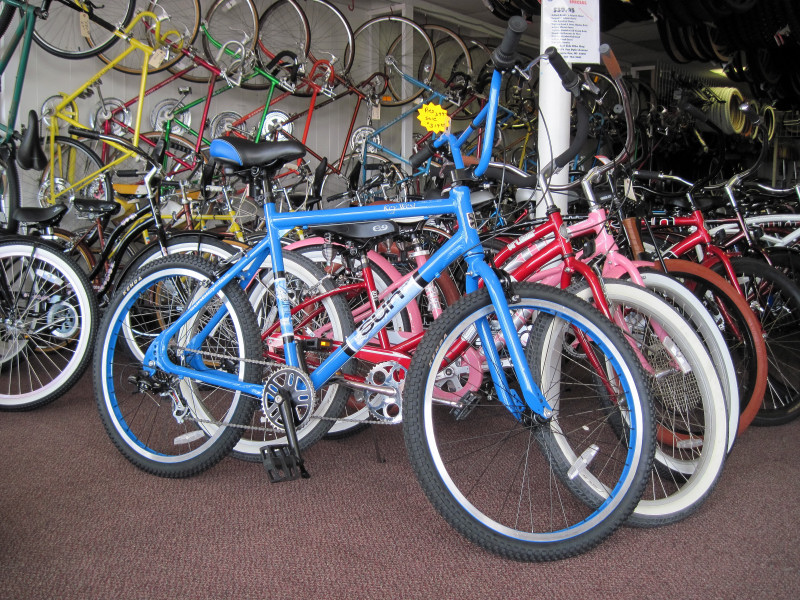 We are an authorized Fuji Bicycle Dealership. This is just a sample of our wide selection.
We also do repairs and maintenance.
Denny's Hint #9: Doctors advise diet and exercise. At least we can make the second part fun.
Don't neglect getting your bicycle tune-up. For $39.95 we will:
| | |
| --- | --- |
| † | Adjust Brakes & Inspect Shoes |
| † | Inspect & Adjust Gears |
| † | Lube & Adjust Chain |
| † | Tighten Seat & Stem, Binder Bolts |
| † | Adjust Wheel Cones |
| † | Tighten Pedals & All Crank Bolts |
| † | Check Air Pressure In Tires |
| † | Tighten & Lube Kickstand |
| † | Adjust Head Cones |
| † | One Day Service |
Why do people from all sides come to Eastside Bike Shop? It's quite simple, really.

†

New & Pre-owned Bikes

†

Over 45 Years Experience

†

Family-owned and operated since 1982

†

Low Rider / Chopper / BMX & Adult Bikes

†

One Day Service on Most Repairs

†

Large Selection of Hard-to-Find Parts and Accessories

†

Buying & Repairing Antique and Classic Bikes

Pictures are worth a thousand words…

A sample of our SE Racing BMX Bicycles.

You can see the full Fuji Line by visiting www.FujiBikes.com.

Our full line of parts & accessories are readily available, special orders are also taken.

Do you need wheels? We have them.

Did we mention how many bicycles we have? Quite a "depth" of choices. Up one side…

…and down the other.

As you can see, we carry & repair classic/old school bikes.

We carry the odd and hard to find.

Greenline Tandem. A fine and classy bicycle built for two.

It's never too late to bring your bike in for a checkup.

We feature the full line of adult bicycles.

Can't find the particular part you want for your favorite ride?

Perhaps you're looking for that special bicycle for your son or daughter?

Could it be time for a tune-up?

Getting ready for an out of town trip and you discover a flat tire?

Maybe your bike just doesn't ride as well as you think it should?

Our experience level is unsurpassed in the Metro Detroit area. We're here to help YOU enjoy your 1, 2, or 3-wheeled investment. Give us a call!

Our inventory is constantly changing. Items shown in the photos will not necessarily be in stock or may be one-of-a-kind "finds" which have been sold since the photograph was taken.
Last Updated: August 7, 2012